A previous version of this guide enthusiastically answered this question with 'all of them, of course!'. However, that's no longer possible even for the most obsessive puzzle fan. The range and quantity of home escape games has vastly expanded, and also blended into other types of puzzle games, with escape experiences available in boxes, books, suitcases, and many other forms. Here's a run-down of what's available and what might interest you. (Or if you just want a list of games and ratings, see
here
.)
Find this article useful? Give back for other readers – log in and leave some reviews or ratings to let others know which games you enjoyed.
Jump to:
Mass-market games | Indie games | Customisable | App / pen / paper | Books | Board games | Subscription boxes | Suitcase | Other media | Weird & wonderful | See also
Mass-market home escape games
These are the games you'll see on sale in shops, or maybe in the lobby of escape room companies. Each brand has its own style and enthusiasts argue over which is best; but most of them (by which I mean Exit, Unlock!, Escape Room In A Box, ThinkFun, Deckscape) are all good quality products and it's worth sampling a few to see which you enjoy most.
ThinkFun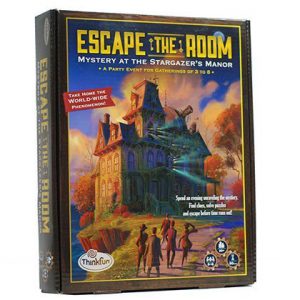 ThinkFun's two Escape The Room games were the first home escape games to hit the market, though it's only recently that there's been news of a third game in the series.
The two games are
The games use a codewheel to check solutions, with no app or website; solving a puzzle gives you permission to open an envelope with more story and items. They're easier and have more emphasis on story than most of the other mass-market games, and the components can be packaged up again for another group if you're careful.
Try Stargazer's Manor for an easier, family-friendly game or Dr. Gravely for a game with a darker storyline and a couple of physical puzzles.
Exit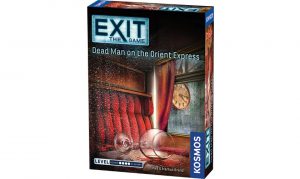 The truly prolific pair of game designers Inka and Markus Brand are behind the Exit series. In ascending order of difficulty rating (acceording to the publishers), the games are:
Forthcoming titles currently only available in German are Die Känguru-Eskapaden, Der Raub auf dem Mississippi, and Der Flug ins Ungewisse.
You'll also see the Exit brand used on other games in Germany, such as Code Breaker, a home escape game for kids only available in German, as well as some escape books (see below).
(There's also a promo mini game called The Secret of the Premiere , though good luck getting hold of a copy.)
Each game uses a set of illustrations that both set the scene and provide clues, plus a deck of puzzle cards as extra clues that you gain access to as you progress. Additional cards are used as the answer verification mechanism, in combination with a codewheel, and still more cards provide per-puzzle hints. An app is available as a timer, but is not necessary to play.
The Exit series is challenging, and even the games rated with a lower difficulty level tend to have some tricky steps. All follow a very similar formula which arguably becomes formulaic after your fourth or sixth game*, though they're endlessly inventive at finding new ideas within that structure. They usually include some 'think outside the box' puzzles which you might love or hate, but my personal peeve with the series is that they're designed to be destroyed in the process of playing them.
Best in the series is Dead Man On The Orient Express, followed by perhaps The Forbidden Castle; though since those are two of their hardest games, you might find The Secret Lab or the Sinister Mansion a better starting point. Polar Station is many players' least favourite and personally I'd suggest also avoiding The Sunken Treasure, though here's a contrasting opinion.
* However, the upcoming kangaroo-themed game suggests the series may be getting increasingly experimental!
Unlock!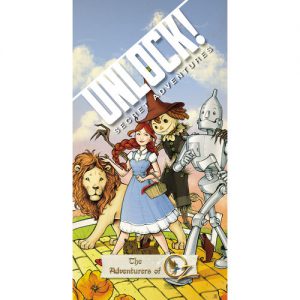 The other giant in the market is Unlock!, whose games are available either individually or in box sets of three, depending which part of the world you're in. They are as follows:
There are also several print-and-play demo games (The Elite, The Dungeon of Doo-aran, Fifth Avenue, Temple of Ra, In Pursuit of Cabracan), which you could try if you want a cheap way to try out the series – but I've found these a somewhat poor reflection of the full product, so I'd suggest instead buying one of the main games.
All Unlock! titles consist of a deck of cards, as well as an app which is an integral part of the game. The play style is a little closer to computer point-and-click puzzle games. Individual titles often vary greatly in style and sometimes introduce mechanisms specific to that game. Most use a 'hidden number' system that requires close inspection of card illustrations, which is heartily disliked by many players; another frequent gripe is the way it inflicts time penalties for often quite arbitrary reasons. Against that, the system allows great flexibility and when it works, it works very well; and it's very easy to pass the games to someone else to try.
The Adventurers of Oz is comfortably my favourite of the series, and is worth trying even if you don't like their other games. However, it's fairly complex, and more approachable starting points are The Formula, Squeek and Sausage, or The House On The Hill.
Deckscape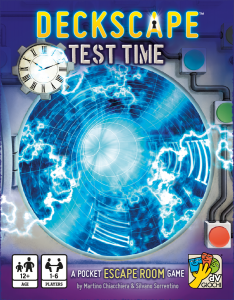 Like Exit and Unlock!, Deckscape uses cards for its clues and puzzles. Although not as prolific as the other two, there's now a decent selection of games available:
(There's also a short demo game available for print & play, though I've only been able to find the German version.)
Deckscape does not use an app, or indeed any answer verification system other than flipping a card to see the solution on the back. At the end of the game the number of errors you made counts as a modifier for your final score.
The straightforward game system counts in its favour; the inability to check an answer without seeing the solution counts against.
Test Time is probably my favourite of their games so far, and is also a good starting point to try them out.
Escape Room The Game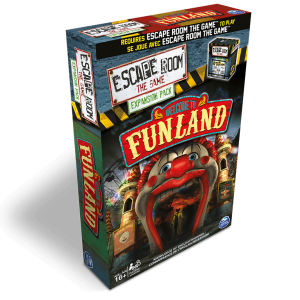 Spinmasters' series Escape Room The Game is quite different to the other options available, most of all because of the large plastic decoder gadget needed to play the games. Which games are available varies greatly between countries, and some of the titles are sold either in a package or as a stand-alone expansion depending on where you are. Worldwide, they've published at least the following:
Note that the English version of the Escape Rooms II box only includes the first three games, with Casino sold as a separate expansion; and in some countries all the games from that box are sold as expansions. The VR box includes a cardboard headset but not a decoder.
The decoder gadget is rather cool, but also very restrictive to the game structure. Each game consists of only three four-value codes, each of which is checked by inserting a set of plastic keys into the decoder.
At its best, the series uses a set of multistep interlocking puzzles that neatly come together to resolve to a code. At other times the puzzle logic seems vague, arbitrary or overly simple. As a result the series is less often recommended than the other main contenders. What also sticks in the craw is that if you buy many of the titles you'll find yourself paying for two or three decoder gadgets.
Of the six titles I've tried, Funland was definitely my favourite – but since that's an expansion, you won't be able to play it unless you also buy one of the packs that includes a decoder.
→ Escape Room The Game ratings
Escape Room In A Box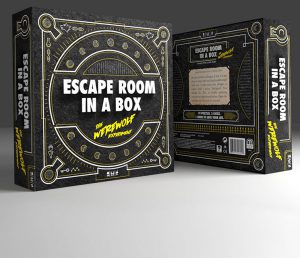 The Werewolf Experiment originated as a Kickstarter project, initiated back when a home escape game was a completely novel idea. I'm including it on the mass-market list because it has since been picked up by Mattel and you may now see it appearing in toy and game shops. At time of writing there's one game available and a sequel under production:
The original game is one of my favourite play at home games and seems to be reliably well received by players.
→ Escape Room In A Box ratings
Adventure Games
Kosmos, publishers of the Exit series, have announced a new series named Adventure Games; it looks like these will have much more of a narrative focus than most home escape games, with no time limit and with multiple endings to explore. It looks like they will be puzzle games but with a style closer to that of a computer-based adventure game. The two titles announced in English are:
MacGyver: The Escape Room Game
MacGyver Escape Room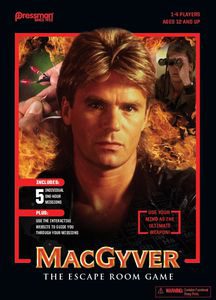 is a (so-far) one-off product, with official tie-in to the TV series.
I haven't played this one since I haven't found a copy in the UK yet, and I haven't heard anything positive enough to make me want to pay for shipping from the US. The box contains five different scenarios; the rumour mill suggests that the tie-in to MacGyver is mostly just in the presentation, and the puzzles are weaker than those of many rival products.
Purple Donkey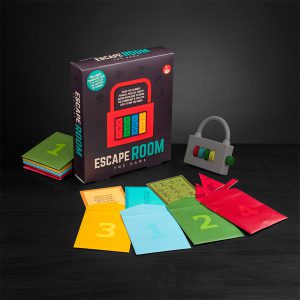 The generically named Escape Room The Game is sold under the brand names Paladone and The Games Club as well as Purple Donkey.
It is a brief and tedious collection of uninspired puzzles that you should avoid buying. It comes with a flaky plastic padlock that still manages to be the least bad thing about it.
Host Your Own… Escape Room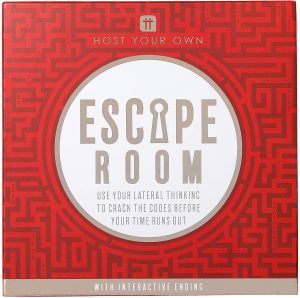 I haven't tried this product so far, but all indications are that it might actually rival the Purple Donkey game for the title of worst 'escape room' product on the market. If you've tried it and have anything good to say about it at all, let me know and I'll give it a closer look.
Indie / one-off games
PostCurious's The Tale of Ord is a set of four packages, each 3-4 hours long, which form a single narrative. The packages are only available as a single purchase, meaning it's not cheap, but there's a lot of content and everything I've heard about it has been strongly positive.
Enigma Emporium currently offer four games: Wish You Were Here, Blowback, Parabola and The Copycat Files. Each game consists solely of a set of five postcards, but the cards are so crammed with hidden information there's plenty to get through. I've tried the first two and enjoyed both, with a marginal preference for Wish You Were Here. An additional game recently completed crowdfunding: instead of a set of postcards, Carte Rouge hides its puzzles throughout a deck of playing cards.
Professor Puzzle is a UK-based game and puzzle company who have added to their range a couple of puzzle games named Escape From The Grand Hotel and Escape From The Starline Express. (Curiously, the first is listed on their website but I've only been able to find the second through Argos.)
Argyx Games have one main game named Apocalypse as well as their Pocket Investigations series (see below). Apocalypse comes in a substantial cardboard box with plenty of physical artefacts as well as paper clues, and the bilingual design means it can be played in either English or French. I found the presentation excellent but the gameplay variable, though your mileage may vary. The Prelude mini-game they produced as a teaser for their Kickstarter is also available for purchase as part of the Pocket Investigations series.
VAP Games's escape game Escape The Casino blends a boxed escape room with app-based digital puzzles. That combination will suit some tastes better than others, but I enjoyed the result, as well as the glossy presentation.
Modern Treasure Hunt's The VOC Treasure is now available in English as well as Dutch and looks designed to be a premium product (with components that include, for example, an actual glass bottle).
The Enigma Files is a curious product from Escape Game, an escape room company who run games in the UK and Germany. It consists of various papers, zero guidance on how to approach it, and hints available only by email. I found it flawed but surprisingly satisfying, though that was in 2017 and home escape games have moved on quite a bit since then.
Doctor Esker's Notebook is a compact game consisting of just a deck of cards, but packs in some very pleasing and well-designed puzzles. It's a little more challenging than most of the main commercial games available. At time of writing it's primarily distributed only in the U.S., but is well worth getting hold of if you can.
The Escape Game is a US company that runs physical games in a dozen locations, and they also publish a home escape game: Vol 1: Chasing Hahn. The plot is connected to that of one of their escape rooms, and gameplay seems to combine an envelope of clues with further web-based resources. (They've also published Escape From Iron Gate – see 'board game cross-overs' below.)
Cypher House Escape offer three games that look similar to those available through monthly subscription services (see below), but not produced on that fixed schedule.
Conundrum Case Files have three homemade games that include some physical items as well as papers.
Unsolved Case Files also seem to aim for a true crime style of game. Their first game is Harmony Ashcroft, with Julia Banks and Jane Carroll in production. Gameplay emphasises investigation and realistic documents/photos, and uses an online answer verification system.
Cold Case Crackers take a similar approach, with one game available so far: The 12th Street Theatre.
PrintHomeAdventures have a very extensive range of affordable print-and-play escape games available via their Etsy shop.
The Mystery of Oak Island is also sold through Etsy, but is a much more substantial product at a higher price, consisting of a box with physical locks and other props.
The Forgotten Letters of Elizabeth Van is yet another Etsy listing – but this one is a follow-up to a physical escape room named The Secrets of Eliza's Heart by Logic Locks in Amsterdam. From the description, it's not fully playable if you haven't played that room.
Die Rache Des Pharaoclaims despite the name to be playable in English as well as German. It consists of six envelopes to 'unlock' and solve.
If your German language skills are up to it, there are masses of product that haven't (yet) been translated to English: the Escape Dysturbia games Mörderischer Maskenball and Falsches Spiel im Casino; IDventure's Antarktis Fatale; Berlin City Game; In den Fängen der Mafia; Hidden Games Tatort; Flucht aus dem Büro and a couple more by the same designer; and probably plenty of others. I have no information on what these are like.
Indie games no longer / not yet available
Several games were created in limited editions and are no longer available for purchase. You might find ways to get hold of some of the retired / sold out games from other enthusiasts.
The Game Room: Mr Boddy was a Kickstarter-based puzzle game; it seemed to be well received, but was only available through the original campaign.
Armchair Detective Company launched three deluxe puzzle cases on Indiegogo, the first of which was delivered to very enthusiastic reviews – but tragically, due to severe illness of the designer, it looks like the other two are unlikely to be completed. Your only option for playing the one completed game is finding someone willing to part with their copy.
Simulacra Escapes: The Wilson Wolfe Affair was an ambitiously large Kickstarter-funded escape game / puzzle hunt which promised impressively high quality components. For now the last few copies left over from the Kickstarter can still be purchased from the designers, if you're quick.
An even more expensive and ambitious Kickstarter project was Enigma Box, which promised 100 hours of gameplay and puzzles that used VR, AR, and much else. It was met with both excitement and cynicism; I haven't played it, but reactions suggest it neither lived up to its hype nor flopped in the way some predicted.
And here are some of the games I'm aware of currently going through crowd-funding or due for a future release:
50 Clues have a set of three games that are currently being finalised and will presumably be launched in the near future.
Crimibox is a trilogy of murder mystery games named Missing In Jericho. It too is currently available in Dutch and has an English version available to pre-order following a successful Kickstarter, with a release date of January 2020.
London-based board games company Inside The Box crowd-funded a puzzle game named Crypt X, which is now available for pre-order.
Following a number of escape books (see below), Escapages are running a Kickstarter for flatpak, a puzzle game disguised as an Ikea furniture catalogue (!).
The Curious Elevator of Mr. Hincks will I think be a physical bundle of clues with a slick web-based verification mechanism.
Customisable escape room kits
Lock Paper Scissors offer kits which you can play as-is, but which are intended to be starting points for you to adapt, extend and customise. They're also designed to scale well to large numbers. They currently have five kits, two of which are aimed at younger players:
iDventure seem to offer both paper-based games and computer-based games, including a portal where you can create your own games (and potentially sell them to others). The site is German only, but most of the games available for purchase are suitable for playing in English.
Legacy Escape Box provide three print-and-play games entirely free of charge. You'll need one person to act as gamemaster, preparing the components and setting up the game.
The Game Gal sells a range of family-friendly home escape kits, consisting of a set of print-and-play components that you supplement with household supplies and set up for play at home.
Escape Kit is based in France but available in French and English, and they too offer a set of print-and-play kits:
If you're looking for escape room resources suitable for use in schools, Breakout Edu is a well-known company offering resources and games for use in the classroom. In the UK, School Escape Rooms and The Problem Solving Company also offer games designed for use with classroom groups.
🔝
App, pen & paper
Escape Team pioneered this style of game: you print out the simple puzzle materials yourself, and use an app to track time and input answers, with an emphasis on solving with pen / paper / scissors. I liked it a lot, and the low price point and bite-size missions add to the appeal.
Madorica Real Escape also uses pen / paper / scissors, but as an analogue component of what is primarily a computer game.
🔝
Books
There are any number of puzzle books of different sorts; the list here is limited to just the ones that seem most likely to be of interest to escape room enthusiasts.
Escape room books
These are the books that explicitly market themselves as escape room experiences. Less well suited to team play, most (but not all!) offer considerably more than an hour's puzzling.
Ivan Tapia's The Escape Book, translated from Spanish, has 17 puzzles embedded in 100+ pages of novel; the story text is not normally described as the book's strong point. It is however self-contained, with no dependency on an app or webpage. There is now a sequel, The Escape Book 2.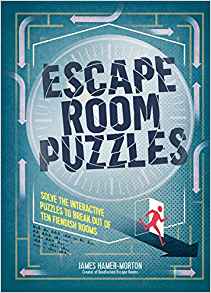 James Hamer-Morton's Escape Room Puzzles is a dense, glossy volume that is at once wildly clever, confusingly arbitrary and savagely difficult. With ten chapters, each a substantial game in itself, there's a lot to tackle. It doesn't depend on an app or webpage, but even so isn't well suited for light puzzling on a train/plane due to its complexity.
Escape From The Room's two books The Curse of Old Maid Milly and Murder In The Village are self-published by UK escape room owner Nathen Newark. They have a homespun feel that's sometimes rough at the edges, with plenty of narrative text; I've only seen pre-release versions of the books, but enthusiasts who've tried them seem to like them. They're well suited to dipping into while travelling.
Paper Escapes' Volume 1 and Escape The F5 are slim books that attempt to provide an experience that will fit inside an hour; the second book is an improvement on the first but I wasn't enamoured of either. Volume 1 uses a webpage to confirm your final answer; Escape the F5 has no online component.
Pete Ingleby's Escape! The Mystery of the Music Shop is an escape room inspired puzzle book that I haven't so far tried.
The Sherlock Holmes Escape Book by Ormond Sacker is first in a planned series of escape-style puzzle books.
If you speak French then there's a wealth of escape books to try; I've tried one themed for Lucky Luke, with a set of three games in one volume, and there appears to be close to a dozen others in the same series. Larousse's Escape Game series also includes several books as well as some home escape games.
And Exit sell several books in German under their Exit Das Buch label: Der Keller der Geheimnisse, Der Jahrmarkt der Angst, Die verborgene Stadt (forthcoming) and Der geheime Schatz (for kids), as well as rebranded versions of Journal 29, Trip 1904, and Codex Enigmatum (see below).
Journal Twenty-somethings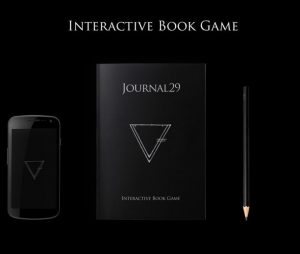 The puzzle book Journal 29 managed to define its own mini-genre, a puzzle book where each page is a single puzzle, where often the challenge is working out what to do with the cryptic illustrations and solving may involve a little use of the internet. There are now several such books from different authors:
All of these use a webpage for answer verification, so you need an internet connection while solving them.
Several of these books are sold in Germany under the Exit brand.
Other books
The Librarian's Almanaq by Roy Leban is not a book version of an escape room, it's a book version of a puzzle hunt. Ferociously difficult and requiring near-total destruction of the book in the process of solving it, it's also well designed and satisfying. The sequel The Conjuror's Almanaq is now available, and while I haven't yet tried it I'd expect it to be a similarly high level of difficulty.
Dubious Documents is a gorgeous set of lovingly illustrated pages, each provided in an equally decorative envelope. Each page leads to a word that combines into the final answer phrase. Although the pages are very beautiful, the puzzles are disappointingly simple and use only a tiny part of the illustrations.
The Master Theorem consists of a set of 40 puzzles that look based around codes and ciphers. Solving time is listed as 'weeks', so this may be for those who like their puzzles to be challenging.
The Maze of Games is an "interactive puzzle novel" that mixes a branching narrative with a large number of mazes and word puzzles.
Stop A Murder gives you five cases, each comprised of "emails, texts and letters" with cryptic hints to solve and thereby prevent a murder.
Initiation by Puzzle Pause looks at first glance like it follows the Journal 29 style of puzzle book; but as far as I can gather it's a bit closer to a traditional puzzle book, where you have multiple instances of the same few puzzle types and there's less emphasis on the 'aha' of working out what to do.
Omniverse, now post-crowd-funding and under production, is a "dystopian interactive open-world puzzle adventure gamebook saga" which claims a strong narrative and also a structure that lets you start anywhere – which sounds intriguingly ambitious.
Das größte Rätsel deines Lebens by Carsten Richter looks intriguing, but is German only and I have no further information about it.
🔝
Board game cross-over
There's a hazy line between 'play-at-home escape game' and 'co-operative board game', and the following products combine elements of both.
T.I.M.E. Stories is a co-operative game with many additional scenarios to purchase, where once you've beaten a scenario it wouldn't make sense to replay it. It differs from normal home escape games in that you normally have 2-3 attempts to complete a scenario, and it focuses on exploration and board game mechanics rather than puzzles.
Escape Tales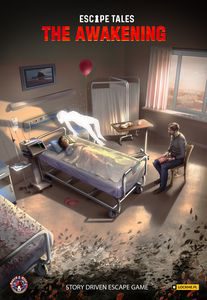 ' The Awakening is very much marketed as an escape game, though involves significant board game elements. It plays something like a cross between Exit, Deckscape and T.I.M.E. Stories. The result works very well, though the story it tells may be a bit dark for some tastes. Their follow-up game, named Low Memory, is now also available and appears to be even bigger, with three chapters each 3 hours long.
To varying degrees the following games all fall on the line between the genres, or so I've heard – I haven't tried these ones myself. (If you have, drop me a message – I'd be interested to hear more about their play style and quality.)
Monthly subscription games
Just to ensure you'll never run out of escape/puzzle games to play, there are now a host of subscription-based options available. Since shipping often plays a big factor in their cost, I've marked them by country.
All of the following appear to follow a broadly similar model, often with a crime / murder mystery plot. Some offer past mailings for one-off purchase, others do not. My information on most of them is limited to their website descriptions plus what I've heard about them second-hand.
Finally, 🇬🇧 Cryptogram Puzzle Post is a monthly puzzle subscription that's very idiosyncratic in style, sufficiently different to the others to be listed separately; it's often frustrating but consistently beautiful and creative.
🔝
Suitcase games
A few escape room companies offer suitcase games that you can rent, play at home, then return. These are much like other home escape games, but normally have larger, higher quality components and a higher price tag. They seem to be getting less common; the only company I'm aware of still offering this in the UK is Red House Mysteries in Exeter, with The Tears of Vienna.
There are of course many companies who provide mobile escape games in various forms.
🔝
Other media
YouEscape differs from all of the other games on this list in that it's run by a live gamemaster – you play it over a video call, with the gamemaster following your instructions and acting as your hands in the game. I tried their 30 min game and would happily play more.
Escape This Podcast provide escape rooms in podcast format, played like a tabletop RPG with environment, items and puzzles described verbally; you can download written notes for each game and run it for friends. Infinite Escape Room is a UK podcast with a similar format, though a more comic style and without the downloadable notes.
Owlfield's 3D Escape Room is an audio-only escape room, essentially an audio play split into a collection of tracks; each track contains a puzzle, and solving the puzzle in one track tells you which track to switch to. It's fun, completely unique, and entirely free.
(There are other escape room podcasts which are based on discussion rather than providing actual games, though not all are still active. By far the best known is the Canadian podcast Room Escape Divas. More recent podcasts include Every Game In This City (reviewing games in Kuala Lumpur), Escape Expeditions (based in Florida), GM the GM (from a game master's perspective), an in-house one from FourFront Games in Dublin, and EscapeCast (featuring Sera of team s2, Dean of Escape Review, and, ahem, me). Additionally, Escape From Reality by Mark of the UK blog Really Fun released a few episodes, as did US review site Escape Authority. And Fictional Reality covers escape rooms plus immersive theatre and other topics.)
🔝
Weird and wonderful
UK company Cornwall's Great Escape Rooms offers Operation Swan Dive, which is somewhere between a home escape game and fancy gift wrap. The product consists of a box (to put your own choice of present into), a padlock and chain to secure it, and a booklet of clues for the recipient to solve and thereby find the padlock combination. I have no information on how much puzzle content is involved. A similar product is available in the Netherlands, Breaking Out's The Bag. And Enigmagram is along the same lines but intended for delivery of a digital message (text, video, etc.) after the recipient has solved the envelope of puzzles.
Ravensburger have a line of escape room jigsaws (!), where you assemble the jigsaw puzzle then solve puzzles embedded in the image. The jigsaw picture is not identical to that shown on the box, avoiding an obvious shortcut.
Puzzle Card have a series of greetings cards with embedded puzzles. The cards are fairly quick to solve, but a nice idea to give to a puzzle enthusiast.
As mentioned further up, Enigma Emporium's forthcoming Carte Rouge will deliver a puzzle game in the form of a deck of playing cards.
Codex Silenda was something between a book, a puzzle box and a home art project; only a few hundred were available in the original Kickstarter campaign, but the website suggests a mass-market version may be available later in 2019.
Codebox is an impressive-looking wooden box from IDVenture, where you solve puzzles to gradually open the box. It appears to only be available on a temporary basis, online and from selected shops in Germany.
You'll need a 3D printer, but Thingiverse Room Escape is an escape room where you 3D print an object and solve it to find the number that provides the file for the next object to print.
SparkFun sell The Prototype HARP, which could be described as an escape room circuit board. It's a piece of electronics that contains a mystery to unravel – and doing so requires suitable tools and significant know-how. If you're not comfortable soldering chips onto circuit boards this probably isn't for you.
There are huge numbers of online escape room games, but to the best of my knowledge One Last Break is the only escape game implemented solely as a set of Instagram posts.
See also
There are far too many escape room computer games to list here, but particularly good starting points are The Room series and the Rusty Lake series.
Puzzle hunts are also a whole other area to discover that I won't attempt to cover here, though are well worth discovering if you like your puzzles challenging. If you're curious, see DASH, Cryptex Hunt, Galactic Puzzle Hunt; or more generally, the Puzzle Hunt Calendar and the list of hunts available via the Cluekeeper app.
Yulu sell a kids' game named Operation: Escape Room, though this appears to be more a toy than an actual escape game for children.
Murder mystery fans interested in something closer to a play at home LARP murder mystery game should take a look at Freeform Games.
Finally, pretty much all escape room fans should take a look at Puzzled Pint, who now have monthly events in dozens of cities around the world, as well as a free archive of almost a decade's worth of high quality puzzles.
🔝
Any glaring omissions? Let me know by commenting below or emailing escapethereview@outlook.com.